| | |
| --- | --- |
| | Rolling mill division introduction |
Division was established in 2007, based on company quality professional technology, the integration of business related departments set up by the group of relying on the comprehensive advantages, serve China's stainless steel, aluminum foil, copper foil industry, design, performance and application of engineering equipment supply, specializing in fire protection system in cold rolling process installation, commissioning and system integration, technical consultation, service, maintenance and training. To provide comprehensive solutions for customers in rolling, grinding, pickling process of the fire service, customer service with professional skilled technology, perfect, and excellent sales performance, good business reputation, business department won the majority of customers and suppliers of the mill complete trust and support. Mill division after many years of hard work, and Chengde, Al, Hua Yang, Wu Hang, Wang Wang, Zhongshan Zhongsheng, Huayuan, odd billion, shuoyang, Bada, Societe Generale, Baojia companies such as the establishment of good relations of cooperation. Division based in Jiangsu, Taicang, radiation throughout the country, and strive to build China's high-end fire protection brands.

Taicang Su Fire Equipment Co., Ltd. rolling mill division:
Address: two Taicang Road, Liuhe Town, South Gate No. 18 zip code: 215431 Tel: 0512-81605191, 81605190
Mr. Hu: 13816508709 Mr. Zhao: 13641740327 mailbox: hugb7613@126.com
| | |
| --- | --- |
| | Rolling mill performance |



Beihai Chengde, is composed of the northern Gulf of Guangxi international port group and Foshan Chengde Steel Co. Ltd. joint venture, located in Beihai City, Tieshan'gang Coastal Industrial Park, 2009 in Beihai Tieshan port, currently covers an area of 3500 acres, currently has an annual output of 2 million 500 thousand tons of stainless steel slab, 3 million tons, 1 million 800 thousand tons of hot rolled coil solid plate volume, 1 million 200 thousand tons of cold-rolled plate production capacity, annual output value of 30 billion yuan, the scale of production in the Chinese stainless steel industry in the top three. Cooperation in the construction of high-end cold-rolled stainless steel production line Beihai Chengde Stainless Steel Co. Ltd. and SIEMENS, France, DMS, ABB, & DREVER, Chinese a number of well-known enterprises at home and abroad. A project consists of BERIS Design Institute of industrial design, by China ye, nineteen Metallurgical Construction etc.. Company covers an area of more than 900 acres, a project with a total investment of 2 billion 400 million yuan, the design annual output of 1 million 200 thousand tons.

Su an fire involved in the success of a five stand tandem cold mill (high pressure water mist), four sets of twenty roller mill (high pressure carbon dioxide fire extinguishing system), a preparation unit and two annealing and pickling line (automatic water spray extinguishing system). Among them, SIEMENS VAI five stand cold rolling mill using continuous endless rolling process of stainless steel cold rolling mill, is currently the most advanced; the French fives twenty roller mill is the most advanced mature single reversible mill; annealing and pickling line with 200 m / min for continuous annealing and pickling, leveling, straightening international the highest speed of one-stop continuous production line. The overall project was completed and put into operation in 2016 January.




Ningbo Qiyi Pioneer Metals Corporation is located in Ningbo high tech Zone, specializing in high precision stainless steel strip, R & D, production and sales, the introduction of international advanced stainless steel production equipment and professional personnel, established in February 2001, covers an area of 87000 square meters. The existing imported SENDZIMIR 20 roll precision cold rolling mill, vertical bright annealing line, horizontal annealing line, leveling machine, tension leveler and other sets of precision stainless steel professional production equipment. At present, the main production of 201, 301, 304, 304L, 310S, 316L, 430, etc. various kinds of stainless steel grade thickness is 0.05mm ~ 1.0mm, soft, hard, ultra hard precision cold-rolled stainless steel strip, steel plate and steel coil, annual capacity of about 70 thousand tons.

The 2007 fire successfully signed Ningbo Su an odd million in the United States imported Sendzimir twenty roller precision mill imported from Japan and vertical bright annealing line automatic fire extinguishing system, automatic fire extinguishing system of gas in June 2017 and successfully signed Ningbo odd billion with an annual output of 230 thousand tons of ultra-thin precision alloy material project.

| | |
| --- | --- |
| | Chinalco shenyang nonferrous metal processing co., LTD. (hereinafter referred to as chinalco shen plus) is a wholly owned subsidiary of China aluminum co., LTD, located in liaoning province in sujiatun district of osmanthus street no. 358, 2012, the relocation within construction processing nickel titanium material project, the project covers an area of 600 mu, with a total investment of more than 2 billion yuan, has become an annual production of titanium, nickel, chromium zirconium copper processing thousands of tons of integrated non-ferrous metal processing enterprises. The company has more sets from Germany, the United States, Italy imported or domestic form a complete set of electron beam cooling bed furnace, vacuum self-consuming furnace, vacuum induction furnace, 80 MN hydraulic press, 20/60 MN fast forging machine, furnace roll mill and other advanced equipment. The 1780mm six-roller reversible cold rolling mill and the grinding side unit adopt high-pressure carbon dioxide gas extinguishing system, which began to operate in 2015. |

| | |
| --- | --- |
| | Haian yuandong new materials co., LTD., established in March 2011, the company main business is high-grade precision stainless steel sheet with production and processing, the main products for the 304/304 j1/316 l / 304 l cold-rolled stainless steel, the thickness of the product is 0.15 ~ 1.5 mm, width 1000 ~ 1250 mm, the monthly output is about 10000 tons. On July 10, 2016, building group purchase original far east new material assets, establishment haian metal technology co., LTD., built metal technology co., LTD., was built by the Taiwan industrial co., LTD., joint venture with Japan's sumitomo corporation in mainland China co., LTD., is a collection marketing, processing integration comprehensive enterprise of stainless steel. In 2013, suan fire successfully signed the gas extinguishing system of two cold rolling mill, which was put into use at the beginning of 2015. |




Fujian aohang stainless steel products Co., Ltd. was founded in 1993, is a Sino foreign joint venture, the company covers an area of 1 million 100 thousand square meters, built of stainless steel raw materials; steel; hot rolled stainless steel wire; cold rolled steel strip, cold drawing workshop fine line, maintenance etc.. Annual production capacity of 800 thousand tons, all kinds of grades, specifications of stainless steel hot and cold rolling, wire.
In 2015, Su an fire successfully signed 2 sets of dry smelting stainless steel 950mm mill fire system, completed in 2016, put into production.




Fujian Wang Wang Industrial Co., Ltd. by Wang Wang Group and green Billiton group jointly created. The company invested about 2 billion 350 million yuan, covering an area of about 600 acres, mainly producing 200, 300, 400 series of precision stainless steel plates, belts and various decorative decorative plates and other products, products covered by No.1, 2B, 2D, 2E. An annual production capacity of 1 million tons, the output value of more than 10 billion yuan. The two phase plans to increase production capacity by 1 million tons, with a total investment of 4 billion yuan, with a total output value of more than 20 billion yuan. In 2015, two sets of twenty roll cold rolling mill and a set of continuous annealing acid line were installed and put into trial production in February 2016. The annual output of high-quality stainless steel will be increased by 300 thousand tons.
In 2015, Su an fire successfully signed two 1450mm cold rolling mill fire protection system, and put into use in February 2016.




Wuxi shuoyang Stainless Steel Co., Ltd. is a Wuxi Hongzhan Stainless Steel Co., Ltd. and Hongkong Jiasheng hardware company jointly established, the company was founded in 2004, a total investment of $about 70000000, with an annual output of stainless steel, BA, 2BB, #304, 150 thousand tons of cold-rolled coil #201, #202, #430 thickness 0.3-2.0mm, width 1240mm, annealing pickling production 400 thousand tons, the thickness of 3.0-16mm, width of 1520mm. The company has 20 high rolling mills, vertical bright annealing furnace, grinding machine, leveling machine, slitting machine and other advanced equipment.
In 2010, the Soviet Union signed 20 roller mill and grinding machine gas automatic fire extinguishing system. It was put into use in 2011.

| | |
| --- | --- |
| | After north sea yearly produces 1 million tons of cold rolling project reaches producing smoothly, sincerity, on the north sea cheng DE nickel industry co., LTD. Was established in foshan, foshan cheng DE new materials co., LTD. Of building annual output of 1.5 million tons of stainless steel cold rolling project. The project has a total investment of RMB 2.8 billion, with an annual output of 1.5 million tons. The products cover 300 series, 400 series and 200 series stainless steel. The company is located in the west garden of the smart cang river industrial park in foshan, covering an area of 300 mu. Foshan cheng DE and wuhan dry, smelting method first (DMS, STEIN), Shanghai bao letter, of the (PRIMETALS), and a number of well-known enterprises at home and abroad to cooperate in the CMI - UVK high-end stainless steel cold rolling production line, the construction of east China metallurgical design institute of industrial design, such as construction by China in the 19th and metallurgy construction. |










Guangdong baojia stainless steel industry co., LTD. Is an enterprise which is expanded on the basis of "AAA" stainless steel sheet made by guangdong grand da stainless steel co., LTD. Located in one of China's top ten outstanding development zone east industrial park, the company covers an area of 100 mu, the annual production of stainless steel sheet up to 150000 tonnes of steel grade is given priority to with 200, 300, 400 series, is a production in the industry in guangdong province the largest and best quality production enterprise. The company has 15 years of rich technical experience, introduced domestic and foreign advanced equipment, have 12, 18 rolls, 20 rolls. Width of 1219mm, thickness from 0.1 to 2.5 mm, the board meets 2B, BA grade.




In 2014, suan fire successfully signed a 12-stick reversible cold mill gas extinguishing system in baojia stainless steel industry co., LTD., which was officially put into production in 2015.










Jurong Zhongsheng strip Technology Co., Ltd belongs to Yi Ma group, the company is located in Lingang Industrial Zone of Jurong city in Jiangsu Province town of Shu No. 3-1, company specializing in the production of precision cold rolled stainless steel plate. The project has launched 6 sets of 20 high rolling mills, mainly producing 200 and 300 series stainless steel cold rolled with a thickness of 0.3-2.0, with an annual production capacity of 600 thousand tons. The products are mainly oriented to the Yangtze River Delta market. Yi Ma group in the "three. Five" plan "based on the end plate, the development of high-end steel, strategy to high tech", "Saint" brand is Yi Ma group "development of high-end steel" strategy highlights. 2016 is the beginning of Yima group fourth five year plan of the year, Jurong Zhongsheng strip Technology Co. Ltd. is one of the construction enterprise group on 2016 Yima to enhance the overall strategy in the first half of an important project.
In 2016, Su an fire successfully signed 2 reversible cold rolling mill gas fire extinguishing system, planned to be put into production in 2017.




Ningbo Shengtai Industrial Group Co., the predecessor of Cixi Xingye copper factory, founded in 1985, the company has become a leading manufacturer of Chinese high precision copper alloy strip industry, high precision copper company mainly engaged in production and sales of various types of belts, until now has formed 8 series of more than 60 alloy products. The annual output of high-precision copper alloy plate and strip occupies the first place in China's high-precision copper plate industry. In 2016, the company achieved sales of 121 thousand and 200 tons, for four consecutive years ranked first in the country high-precision copper strip sales.
In 2014, the fire control system of the 6 copper rolling mills was upgraded by Su an fire to escort the industrial production safety.

| | |
| --- | --- |
| | Ningbo Huayang aluminium industry science and technology limited company is located in Fenghua city of Zhejiang province Chinese Siming road hi tech Development Zone No. 288, the Steel Union International Investment Development Limited by Share Ltd owned investment, covers an area of 15 hectares. After more than two years of construction projects, in April 2005 began trial production, in June 2006 through environmental acceptance, formally put into production. In 2014, the fire extinguishing system of Japan's four non reciprocating cold rolling mill, made by IHI in Japan, was comprehensively reformed. |

| | |
| --- | --- |
| | In 2010 the successful signing big fire Suan (International) Limited (Thailand Great Central (International) Co., Ltd.), design, equipment manufacturing, installation, commissioning, training, accompany a full set of fire system for its NISSHOIWAIKUBOTA 20 stainless steel rod mill. |
| | |
| --- | --- |
| | Rolling mill technical section |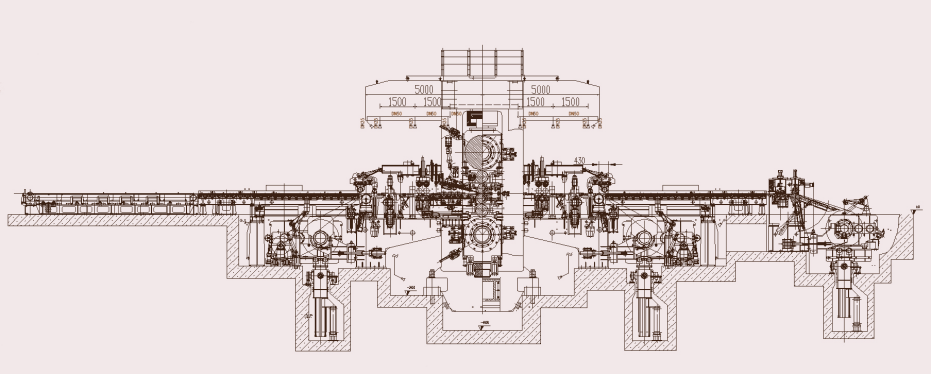 Rolling mill protection area is basically divided into: main rolling mill, oil sump, roll gap, flue, process oil depot, high and low pressure hydraulic station, pipe ditch, lubrication station, filter and other protected areas. Fire fighting and control planning See table below:
Serial numbe

Name

Specification

Rolling mill

Total

Oil depot

Filte

Rolling mill bod

flue

Roll gap

1

CO2 cylinder

(fill 42KgCO2)




70 L / bottle, including bottle head valve, check valve, hose and so on

30

2*36

2*7

2*3

122

Combination allocation, maximum protected area design

Unit independent fire extinguishing two times

Unit independent fire extinguishing two times

Unit independent fire extinguishing two times

 

Extinguishing method

Total flooding


Partial submergenc

Partial submergence

Total flooding

Partial submergence




 

Head diameter

 

DN65

DN80

DN32

DN32

 

Delay Time

30s

0S

0S

0S

0S

 

Start-up mode

Once: automatic, electrical, manual, mechanical, manual

●

●

●

●

●

 

Twice: electrical, manual, mechanical, manual

●

●

●

●

●

 

2

Safety valve

 

2

2

1

1

6

3

Pressure transmitter

 

2

2

1

1

6

4

Injector

DN25 with hood

24

24

13

 

4

65

5

Dustproof DN25

 

 

 

5

 

5

6

Starting device

(electromagnet type)

10LNitrogen cylinder

4

4

 

 

8

4LNitrogen cylinder


 

 

 

4

4

8

7

detector

Plug-in rod type temperature sensing detector

(90 C constant temperature

 

 

8

5

2

15

Point type temperature detector

(65 C constant temperature)

19

9

 

 

 

28

8

Field start butto

Start and stop

2

2

2

2

2

10

Master control room start butto

Start and stop

2

2

2

2

2

10

9

Fire pan

District number

10

10

10

Early warning

Acoustooptic alarm

1

1

1

1

1

5

11

Confirm police

The alarm bell

1

1

1

1

1

5

12

CO2 injection warning lam

 

1

1

1

1

1

5

13

Weighing device (set per bottle)

 

 

 
The specific fire extinguishing area and mode of operation are as follows
● Mill body (including flue) - the automatic, manual and mechanical electrical manual operation; due to the host and the oil and oil tank with the combination of distribution system, which belongs to the system to ensure that each call, if you choose the valve once opened up under the condition of "the system can start fire extinguishing equipment.
● Underground oil storage - automatic, electrical, manual and mechanical manual operation
● Tank - full automatic, electrical, manual and mechanical manual operation;
● Flue - Electrical, manual and mechanical manual operation;
● Work roll gap - Electrical, manual and mechanical manual operatio
2) the rolling mill main body (including flue), underground oil depot and oil storage tank are protected by combined fire extinguishing mode, and the roll gap is protected by independent fire extinguishing mode, and one or two fire extinguishing functions are set up.
3) the working roll gap is protected by independent type, designed for the two fire extinguishing function. IG01 argon fire extinguishing system is adopted.
4) the rolling mill body and work roll gap, the oil storage tank adopts partial fire extinguishing mode, and the rest adopts full flooded fire extinguishing mode. When the mill body, the work roll gap and the oil tank start fire extinguishing device, there is no delay, while the remaining areas are set 30 seconds delay function.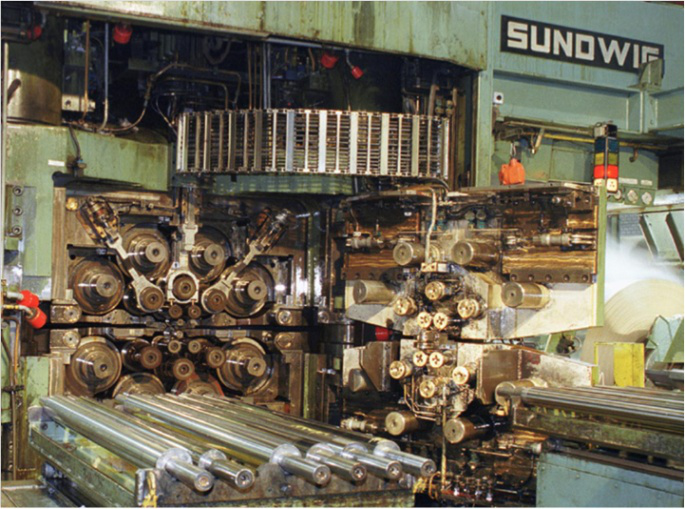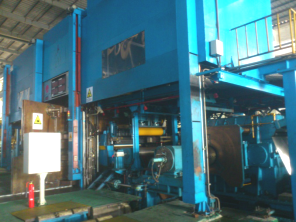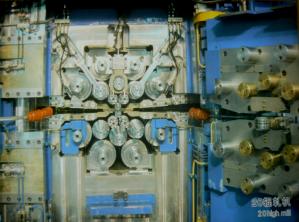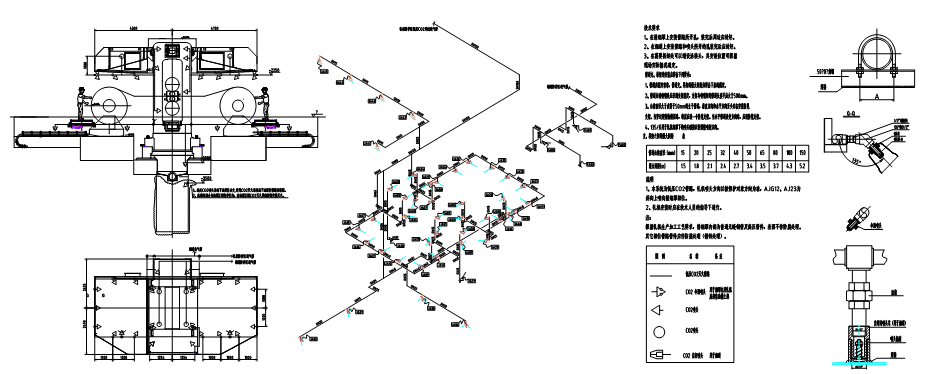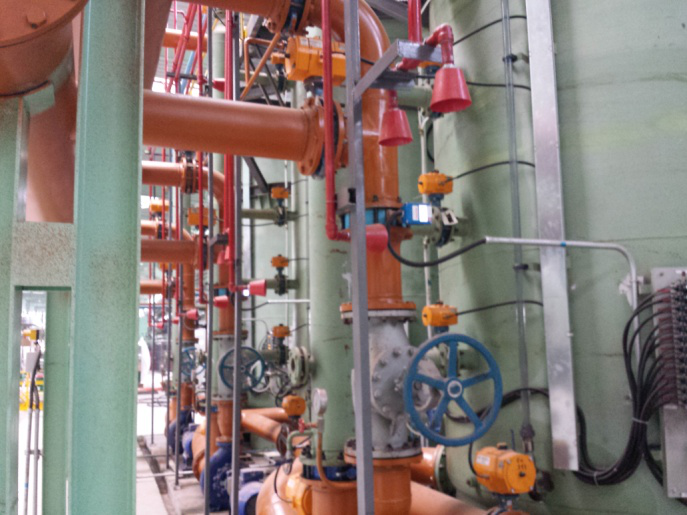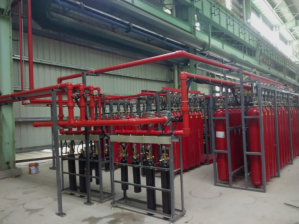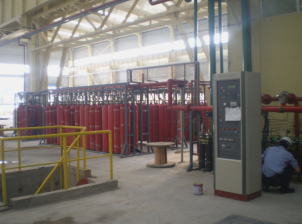 The depot, main tunnel protected areas inside and outside are set up a sound and light alarm device, to ensure the safety of personnel evacuation in fire extinguishing agent should be issued before the release, fire alarm, fire alarm and fire extinguishing agent release delay time should be set in accordance with the actual situation of the test, not deliberately set 30S; for the delay of the bar machine body, flue, filter, do not meet the conditions of stick seam, immediately injection; filter alarm, underground oil and alarm; alarm host, underground oil and waste at the same time in order to ensure the reliability of fire alarm; the fire system in the prior to the release of fire extinguishing agent or at the same time, should guarantee the necessary linkage operation. The fire extinguishing system in a fire control system sends out the instruction, by linkage instruction, power off, shut down or stop all affect the suppression effect in the actual operation of equipment; The detection system is the use of "and" circuit, all areas should be in the automatic state, and should not make any area in the state of manual control, because the automatic state of manual control is preferred, because in this control mode in malfunction probability is very low; the main entrance of operating platform, operation Taiwan, Taiwan export operations are provided on the host (main and standby area) operation button; the main operating units arranged near the three button, as the roll gap, host (main and standby area) the stop button, the button of the remaining districts divided into body and main operation mode of two kinds of control room, but the main operation room to button and roll gap (main spare area) button placed separately; the host, underground oil tanks, trenches, etc. the main plate filter fire extinguishing area are set manually stop button facilities.