| | |
| --- | --- |
| IG541 Automatic Fire Extinguishing System | |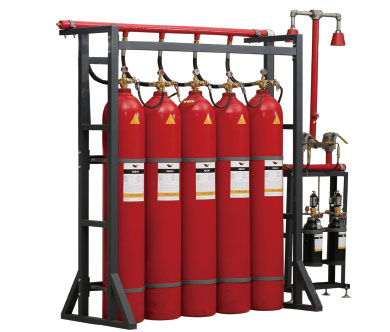 IG-541 mixed gas fire extinguishing agent is gas nitrogen, argon and carbon dioxide gas according to a certain proportion, because these gases are naturally present in the atmosphere, and rich source, so it has no loss of atmospheric ozone (ODP, ODP=0) will not impact on the earth's "greenhouse effect". Not have the life long effects of atmospheric chemicals. The gas mixture is non-toxic, colorless, tasteless, non corrosive and non-conductive. It neither supports combustion nor reacts with most substances. From an environmental point of view, it is an ideal fire extinguishing agent.
| | |
| --- | --- |
| | IG-541 gas mixture composition and quality requirements |
| | | | |
| --- | --- | --- | --- |
| Mixed gas component project | (N2) | (Ar) | (CO2) |
| Proportion | 48.8~55.2% | 37.2~42.8% | 7.6~8.4% |
| Purity requirements | >99.99% | >99.97% | >99.5% |
| Water requirement | <0.005% | <0.004% | <0.01% |
| Oxygen requirement | <0.003% | <0.003% | <0.01% |
| | |
| --- | --- |
| | IG-541 gas mixture physical properties |
Molecular weight (about)

34.0

Evaporation rate at boiling point

220KJ/Kg


power-consuming(1atm)

-196℃

Specific heat of steam(1atm、25℃)

0.574KJ/Kg℃

freezing point

-78.5℃

Vapour pressure(25℃)

15.2MPa


Relative electrolyte strengt

(1atm、25℃,N2=1.0)

1.03

Density(1atm、20℃)

1.417Kg/㎡

IG-541 gas mixture extinguishing mechanism belongs to physical fire extinguishing mode. When the mixture is released, the oxygen concentration is lowered to the point that it does not support combustion to extinguish the fire. Usually, the air in the protected area contains 21% oxygen and small and 1% IG541. Most of the fuel will cease to burn when the oxygen in the protection zone falls below 15%. The mixture reduces oxygen in the protective zone to 12.5% and increases the IG541 to 4%. The increase in IG541 ratio speeds up the rate of respiration and the ability to absorb oxygen, thereby compensating for lower concentrations of oxygen in the ambient atmosphere. When the design concentration of fire extinguishing system is not more than 43%, the system is safe and harmless to the human body.
The extinguishing mode of IG-541 mixed gas fire extinguishing system is suitable for completely flooded fire extinguishing system.
Mainly used in the electronic computer room, communication room, power distribution room, transformer oil, power room, library, Museum of cultural relics, record room, and bill database is often a place of work, can be used for solid or liquid fire fire soluabilization electrical fire fighting, fire and fire, solid surface can cut off the gas fire source, but not for the D class of active metal fire fighting.
IG-541 mixed gas automatic fire extinguishing system is mainly composed of a gas fire alarm control system, fire detection system, fire extinguishing agent storage bottle, container valves, valve, pressure relief device, Dan Xiangfa, pneumatic control valve, pressure switch, nozzle, pipeline and other major equipment. Can be composed of units, independent systems, or distribution systems and other forms. Implement fire protection in one or more districts.
The system has automatic fire extinguishing, emergency electrical manual fire, on-site mechanical fire fighting three ways for users to choose.
The system has been tested and qualified by the national quality control system for fire extinguishing system and fire-resistant building components, and conforms to the international GB25972-2010 "gas fire extinguishing system and components".
| | |
| --- | --- |
| | IG541 combined distribution of gas fire extinguishing network shaft diagram |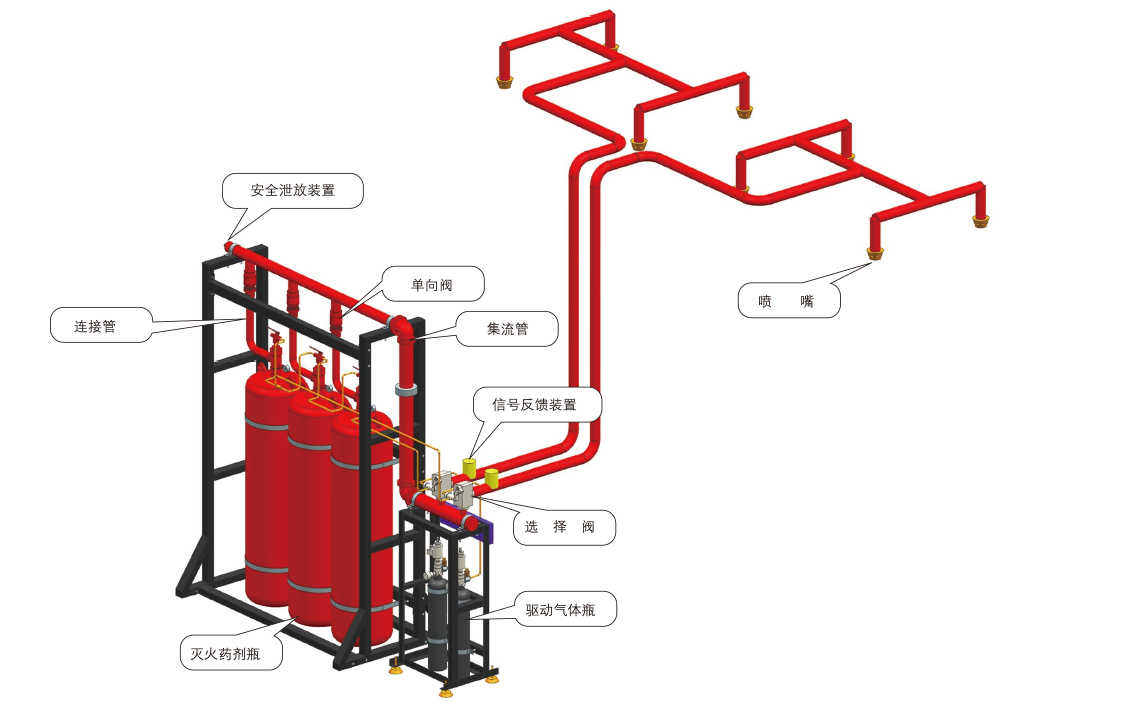 | | |
| --- | --- |
| | System technical parameter |


System type

QMH15/80-SA

QMH15/90-SA


Bottle volume of extinguishing agent

80L

90L

Fire extinguishing pattern

Total flooding

Total flooding

Filling Pressure
(20℃)

15 Mpa

15 Mpa

IG541 filling capacity

16.89Kg

19Kg

Extinguishing agent, bottle group, monitoring

Pressure gauge

Pressure gauge


Maximum operating pressure


(50℃)


17.2Mpa

17.2Mpa

Sealing form of fire extinguishing agent bottle set

Diaphragm seal

Diaphragm seal

Spraying time

48s~60s

48s~60s

System operating environment temperature

0℃~50℃

0℃~50℃

System startup mode

Automatic, electrical, manual emergency start, mechanical emergency manual three control methods

Automatic, electrical, manual emergency start, mechanical emergency manual three control methods

N2Drive the storage pressure of the gas bottle set

6MPa

6MPa

N2 Volume of the driven gas bottle set

4L、10L、15L

4L、10L、15L

N2 drive gas bottle monitoring

Pressure gauge

Pressure gauge

Drive gas bottle group sealed form

Diaphragm seal

Diaphragm seal

Bottle holder form


Single permutation

double arrangement

Single permutation

double arrangement

System delay start time


0~30s

0~30s

Starting voltage and current

DC24V,1.5A

DC24V,1.5A

Fire extinguisher bottle color

Red

Red

N2 drives the color of the gas bottle group

Black

Black

Bottle holder color

Gray

Gray

Fire extinguisher storage bottle

High voltage seamless

High voltage seamless

Driving gas bottle

High voltage seamless

High voltage seamless


Single group bottle load

(containing chemicals)

125Kg

130Kg

Size of single arrangement bottles


H=2080mm

L=N*320+220mm

W=760mm

H=1850mm

L=N*370+220mm

W=810mm

Dimensions of double row bottles


H=2080mm

L=N*320+220mm

W=1000mm

H=1850mm

L=N*370+220mm

W=1060mm

Nominal working pressure of nozzle

>2Mpa

>2 Mpa